Movements Across the World Reject Latest US Attack on Venezuela
Thousands marched in Caracas, Venezuela on August 10 against the latest Executive Order issued by the Trump administration against Venezuela. (Photo: Twitter)
People and movements from across the world are standing in solidarity with Venezuela and the Bolivarian Revolution after the latest imperialist offensive and demanding #NoMoreTrump.
(Peoples Dispatch) Tens of thousands of Venezuelans took to the streets on Saturday, August 10, accompanied by president Nicolás Maduro and other authorities to reject the latest round of unilateral punitive measures imposed on the country by the United States. The central slogan of the mobilization was #NoMoreTrump and thousands signed the campaign letter to denounce the actions of the Trump administration.
On August 5, US President Donald Trump announced an executive order which formalized the embargo on Venezuela. The order which prohibits all types of transactions between the United States and entities associated with the South American country was vehemently rejected by the Venezuelan government and people. The order also gives the secretary of the treasury of the US the authority to impose sanctions on those individuals who provide support to Nicolás Maduro and his government. The order marks an escalation in the hybrid war against Venezuela which has already had a devastating impact on the population.
In Saturday's mobilization, the constitutionally elected president, Nicolás Maduro, addressed the crowds and stated "I am here to call on the people to struggle, to charge, to act against Trump. I call on you to keep your head up, raise the flag of the homeland, and say that Venezuela must be respected. We have to make sure the force and the legacy of the liberators is respected."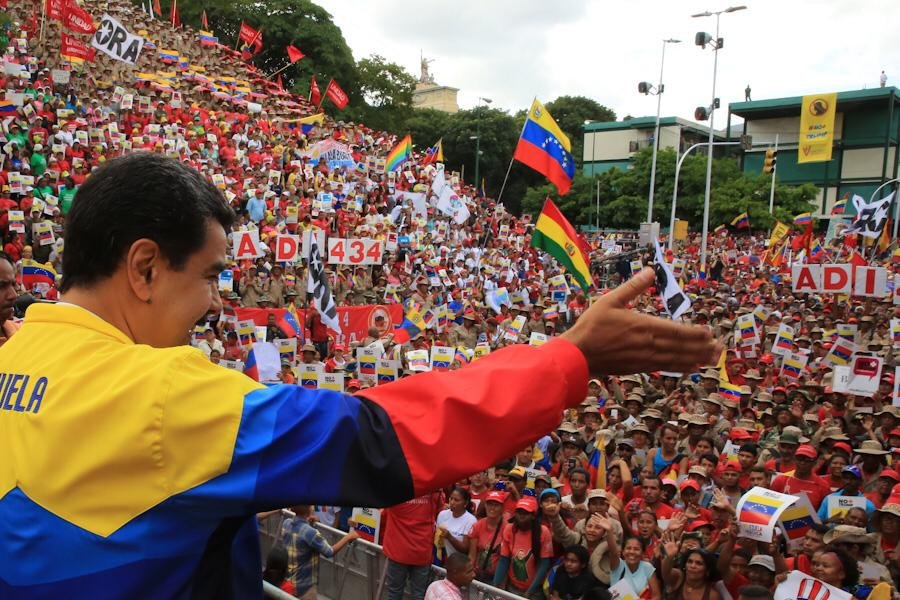 He explained that, "This is a battle for the right to live, exist, for the right to independence, sovereignty, for international law because the imperialist and criminal government of Donald Trump consecutively violates international norms and principles when he takes measures referred to worldwide as unilateral, coercive, illegal, using the economic power of the dollar, of the US banks to blackmail the world and impose a global dictatorship."
Lucía Sanoja, a member of the National Bolivarian Militia, said on Saturday: "We repudiate these illegal actions and we support the decisions of the president of the Republic, Nicolás Maduro. We know the magnitude of danger of this arbitrary measures of the Trump government."
The Venezuelan government announced on August 8 that their delegation would not attend the scheduled dialogue sessions with the opposition in Barbados on August 8 and 9. The announcement came after opposition leader Juan Guaidó was reported to have applauded and celebrated Trump's latest measures against the Venezuelan people.
Messages of solidarity poured in on August 10 from people and movements across the world and in many countries, rallies and mobilizations were held to show that the people of the world stood firmly with Venezuela and would not be intimidated by Donald Trump.