Trump: Syria to Pay 'Big Price' for Alleged Chemical Attack
Bolton to Head Security Council Meeting Discussing War on Syria
(AntiWar) President Donald Trump vowed a "big price" would be paid by Syria for an alleged weapons attack Saturday. The attack, supposedly against the city of Douma, has yet to be proven, but US officials are already looking ahead toward using it as a pretext for war.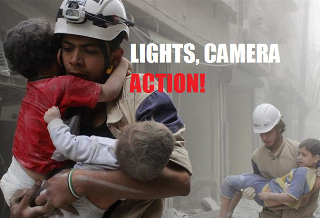 A meeting of the National Security Council is scheduled for Monday. This will be the first meeting of the council to be headed by new National Security Adviser John Bolton. The focus is expected to be options for attacking Syria.  The White House is refusing to take any option off the table, with military strikes likely imminent.
In April of 2017, the US attacked Syria with Tomahawk missiles, supposedly a punishment for a previously alleged chemical attack. In that case too, the chemical attack was not well established, and indeed still hasn't been proven. It's unlikely, given that, that the US is going to worry about waiting for proof.
The claims about the new attack originate with the White Helmets group, and was immediately reported as absolute fact by myriad Western outlets, despite the lack of evidence.
The White Helmets also call themselves Syria Civil Defense, are heavily funded by Western governments, historically getting large sums from the British Foreign Office. Though formally a search and rescue group, their media presence is almost entirely focused on advancing narratives favorable to Western government intervention in Syria, and claiming war crimes for which little to no proof exists.
The allegation is picked up by the press, and echoed enough it effectively substitutes for the truth. In this case, Western outlets are all reporting 70 killed in a chemical attack, quoting the White Helmets. The BBC even put the figure at 150 briefly, though dialed that back when the White Helmets deleted the Tweet that put the toll that high.
The claim was welcomed by many pro-war factions not because it was true, but because it was so timely. The State Department is part of an effort to push President Trump to keep troops in Syria, and were quick to sell this as something which the US needs to do something about.
Something more or less always means war in these circles, and that's such a foregone conclusion that Russia is already warning of "serious consequences" over US attacks. The Russian Foreign Ministry's official position is that the chemical attack didn't happen, which seems an imminently practical position given the lack of evidence, or even conceivable reason for such an attack.
Douma is the last rebel-held city in Eastern Ghouta, and there were ongoing talks on an evacuation deal Saturday, a deal which was announced Sunday. While the previous evacuation deal fell apart Thursday evening, and there were some strikes starting Friday, there is no plausible reason why Syria would suddenly use chemical weapons there.
The US position is that Syrian President Bashar Assad is an "animal," and that explains away anything that doesn't make sense.
The White Helmets: Nobel Peace Prize Worthy Or Propaganda Artists With Jihadi Ties?